Gathering 2022 - Rekindling the Camino Spirit
03/31/2022 02:30 PM - 04/03/2022 09:00 AM PT
Admission
$395.00 - Member-Full Registration (Shared Room)
$545.00 - Member-Full Registration (Single Room)
$195.00 - Member-Commuter Registration
$495.00 - Nonmember Full Registration (Shared Room)
$645.00 - Nonmember Full Registration (Single Room)
$295.00 - Nonmember Commuter Registration
Summary
2022 Gathering of Pilgrims
Black Mountain, NC
Description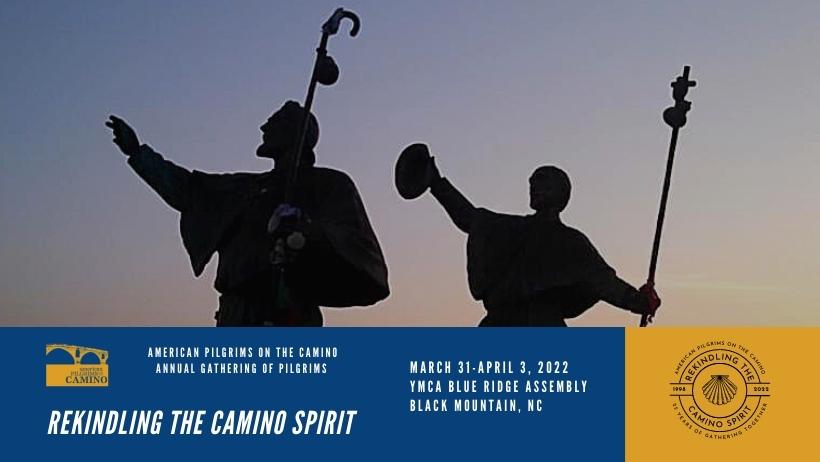 2022 Annual Gathering of Pilgrims
Rekindling the Camino Spirit
Thursday, March 31 - Sunday, April 3, 2022
YMCA Blue Ridge Assembly, Black Mountain (near Asheville), NC
Online registration for the 2022 Gathering of Pilgrims at the YMCA Blue Ridge Assembly in Black Mountain, NC is now open!
The Gathering runs from 5:00 pm on Thursday, March 31, (check-in begins at 3:30 pm), through 12:00 pm on Sunday, April 3, 2022.
COVID-19 Policies: In accordance with YMCA Blue Ridge Assembly policy, all attendees must be able to provide proof of COVID-19 vaccination upon arrival (card or photograph of card). For the unvaccinated, proof of a negative COVID-19 test within 72hrs of check-in is required. Face masks will be required in public indoor spaces and encouraged in other locations. Further, all registrants will be required to sign a waiver and acknowledgment of local COVID policies form for the YMCA Blue Ridge Assembly upon arrival. You may view/print a copy of this form by clicking YMCA COVID POLICY FORM - SIGNATURE REQUIRED.
These requirements/restrictions are subject to change at the discretion of YMCA Blue Ridge Assembly, based on local conditions at the time of the event. If appropriate documentation is not provided upon arrival, you will not be permitted to check in for this event.
Full registration includes all meetings, breakout sessions, entertainment, three nights accommodations (Thursday, Friday & Saturday), as well as all meals and receptions.
Members: $395

Nonmembers: $495
*Rates are double occupancy. A single supplement of $150 applies for those who prefer a room without a roommate.
Commuter registration includes all meetings, breakout sessions, entertainment, and receptions, as well as three dinners and two lunches (Thursday-Saturday evening). Commuter registration does not include breakfast or lodging.
Members: $195

Nonmembers: $295
Look for the blue "Click here to register online" button at the top of this information page.
If you are a member of American Pilgrims, you must log in to your account to receive the discounted rate. On the registration page, be sure to click on the blue text Members: log in here to access your registration discount to log in and access your discount.
If you aren't already a member, click on either of these links to join or renew your membership prior to registering for the 2022 Gathering.
Based on your travel arrangements, you may request to stay for an extra night before or after the event for an additional fee. An extra night stay (Wednesday, March 30th) will include dinner Wednesday night and breakfast/lunch on Thursday and will cost an additional $100 (double occupancy) or $155 (single occupancy). An extra night stay following the event (Sunday, April 3rd) will include lodging only and will cost an additional $100. You can sign up for one or both extra nights via a separate registration form specifically for additional nights and other special situations.
The information you provide during registration is only for your Gathering registration and may differ from that in your American Pilgrims member profile. The exception is your email address which must be the same here and in your profile. If you want to change it, please go to "Update My Profile" in the menu system after logging in to your account. If you have a household membership, you can select others in your household as additional registrants during registration.
Follow this link for a YMCA Black Mountain Campus Map.
Follow this link for the 2022 Gathering Program (draft).
Questions should be directed to either the registration coordinator or the Gathering chair.
We look forward to seeing you at the Gathering!