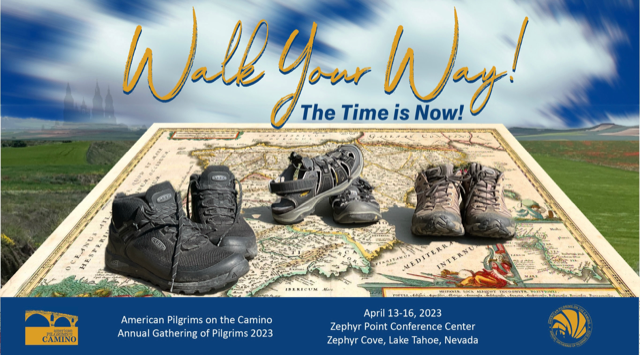 2023 Gathering
Walk Your Way! The Time is Now!
Useful Information
About the Venue
Zephyr Point Conference Center is located at 660 Highway 50 in Zephyr Cove, NV, 55 miles from Reno and 110 miles from Sacramento, CA. Learn more about the facilities at zephyrpoint.org.
Accommodations
Accommodations are double occupancy rooms with private baths. A limited number of both single and triple rooms are available. Linens and towels are provided, but hair dryers and toiletries are not provided. There are no televisions or telephones in the rooms.
Registration closed. We do not sell day passes to the event.
Altitude Sickness
Zephyr Point sits at an elevation of approximately 6,300'. Some people visiting altitude above 5,500' will experience a form of altitude sickness. While often mild, symptoms include headaches, dizziness, loss of appetite, nausea, vomiting, fatigue and poor sleep. A healthy diet including whole grains, fruits and veggies are exactly what your body needs. Allow your body to acclimate, take your time and stay hydrated. Coffee and alcoholic drinks can affect people differently at higher altitudes. If you drink wine, remember to also drink plenty of water.
Lake Tahoe has some of the world's best drinking water! Bring a reuseable bottle with you. Drink Tahoe Tap and #breakupwithplastic!
Airports
The closest airport to the venue is Reno-Tahoe Int'l Airport (RNO), 53 miles away. Sacramento Int'l Airport (SMF), 119 miles away, offers more flights on more airlines, which may result in more affordable fares and greater flexibility.
Ground Transportation
The South Tahoe Airporter offers transportation from Reno-Tahoe Int'l Airport to Lakeside Inn & Casino, 2.8 miles away. From Lakeside you would need to take an Uber/Lyft or taxi to Zephyr Point. For questions call (530) 542-6182. You can find more information, see the current schedule and book tickets at southtahoeairporter.com.
Members of the NorCal and Lake Tahoe chapters have graciously offered their help where possible. To connect with others willing to provide a ride, we have created a Gathering 2023 Facebook Group (see below for more information).
Facebook Group
To help you connect before, during and after the Gathering we have created a Facebook group dedicated to the 2023 Gathering and exclusive for confirmed attendees. Go to 26th Annual Gathering of Pilgrims Facebook Group to join. You must be registered to be admitted to the group.

Donations to Raffle and Silent Auction
We hold a silent auction and raffle each year to help fund our award-winning grants program. If you have new (unused) gear, guidebooks, gifts or anything else Camino, we welcome your donations! We encourage chapters to offer a gift box of items special to their area or with a Camino theme for the silent auction. If you would like to donate an item, please click this link for instructions.
Contact the raffle/silent auction coordinator at sternesoy@gmail.com if you have any questions or for ideas or more information.

Chapel
The Charis Chapel (Tallac Center, Third Floor), is open 24 hours and available to all.
Fr. Jorge Herrera, pastor at St. Francis of Assisi in Incline Village, NV, will lead Mass at 4:00 pm on Saturday.
There are no scheduled Sunday services at Zephyr Point.
There will be coffee and tea service every day throughout the day. We encourage you to bring an insulated, reusable mug as those provided are small.
Name Tags
Please wear your nametag at all times. This will distinguish us from other groups that will be on-site and ensure access to our activities.
Weather
Expect wintry weather with temperatures ranging from 27°F-47°F, with a chance of rain or snow. We recommend you bring warm clothing, comfortable shoes or boots and an umbrella. Please bring a flashlight to help you navigate back to your room at the day's end as lighting around Zephyr is kept to a minimum to enjoy the starry nights. Please email us at registration@americanpilgrims.org if you have any questions.
Bears are frequently seen around Zephyr Point. Be bear aware and conscious of your surroundings while at Zephyr Point. For your safety, practice proper food storage and trash disposal. Food, beverages and ice chests must be stored in bear-resistent containers (not in your vehicle!) and garbage must be disposed of in bear-proof garbage containers.

Need More Information?
Gratitude and Credits
American Pilgrims on the Camino relies on many volunteers to run our organization, including local chapters, hospitalero training sessions and the Gathering. We thank each of our dedicated volunteers and presenters who give so generously of their time, skills and knowledge.
A huge thank you Martin Pena for sharing his artistic talents and creating our beautiful artwork and sello.
Thank you to the staff of the Zephyr Point Conference Center.
We thank all who generously contributed raffle and silent auction items. All proceeds benefit Camino programs sponsored by American Pilgrims on the Camino.
Thank you to Total Wine & More for their generous contribution and continuing support.