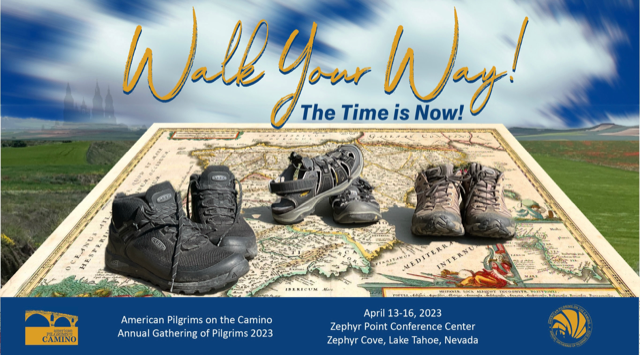 2023 Raffle & Online Silent Auction
The 2023 Gathering is just around the corner and the committee is now working on another popular and important part of the Gathering – the annual raffle and silent auction. The raffle and silent auction help fund our Camino programs including hospitalero training, Ribadiso Welcome Service, and our award-winning Grants program – benefitting various Camino infrastructure projects (and peregrinos) in Spain, Portugal, and France.
In an effort to raise greater funds, we are hoping to expand our offerings and are humbly asking our members and supporters to donate items for both events.
Online Silent Auction
This year the silent auction will again take place completely online! All pilgrims will have a chance to view and bid on donated items during the week of the Gathering whether you are attending the Gathering or not! The minimum value for items donated to the silent auction is $25. The silent auction will open at 4:00 pm PST on Saturday, March 25th and close at 7:00 pm PST on Saturday, April 15, 2023.
Donors for the silent auction should register their item(s) using the donation form below and upload at least one picture of each donated item. This helps us set up the online auction information. Donors are requested to hold their donation until informed of the winning bidder. We ask you then ship the item directly to the winning bidder (U.S. addresses only) within two weeks. If alternate arrangements are necessary to facilitate shipping the items to the winning bidder, please email the Raffle & Auction team.
Click this link to donate to the 2023 Online Silent Auction
---
Raffle
If you'd like to donate an item or items to the raffle, you can bring your donation with you to the Gathering (if you are attending) or ship it by March 31, 2023. By completing the form below you help us track donations and make sure all donors are properly recognized.
Click this link to donate to the 2023 Gathering Raffle
---
If all of this just sounds like too much work and you'd rather make a cash donation to help fund our Camino programs, click here to make a cash donation.
---
If you have questions or would like to volunteer to help with the raffle (either before, during or after), please email the Raffle & Auction team.
We are grateful for all you do to support the pilgrimage experience and look forward to seeing you at the Gathering!